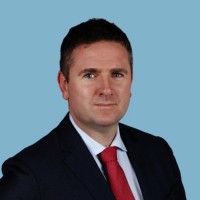 Stephen Twomey is Director of Enterprise Ireland MENA (Middle East and North Africa). With an impressive career spanning over a decade, Stephen has consistently demonstrated his expertise in driving business growth, fostering strategic partnerships, and facilitating international trade.
As the Director of Enterprise Ireland MENA, Stephen Twomey is responsible for spearheading the organisation's efforts to promote Irish companies and their products/services across the dynamic markets of the Middle East and North Africa. He plays a pivotal role in expanding Ireland's global reach, supporting indigenous businesses, and attracting foreign direct investment to Ireland.
Stephen brings a wealth of experience to his role, having held various leadership positions within the international business landscape. His deep understanding of market dynamics, cultural nuances, and global trade trends has enabled him to create impactful strategies that help Irish companies establish a strong presence in the MENA region. Under Stephen's leadership, Enterprise Ireland MENA has witnessed remarkable growth, empowering Irish enterprises to tap into the vast opportunities offered by emerging markets. His relentless focus on innovation, adaptability, and customer-centricity has guided Irish companies to navigate complex business landscapes and seize new growth prospects.
Prior to his current position, Stephen held several key roles within Enterprise Ireland as Senior Market Advisor for the Fintech and Enterprise technology sector, contributing significantly to the organization's overall success. His diverse portfolio includes driving export development strategies, supporting entrepreneurship and innovation, and leading market entry initiatives in various regions around the world. He is a trusted advisor to many Irish companies, offering strategic guidance and leveraging his extensive network to connect businesses with key stakeholders and potential partners. Stephen Twomey is a graduate of University College Cork and University of Limerick, where he earned his BSc in Food Business in 2006, MBs in International Entrepreneurship Management in 2007 and an MBs in Information Systems Business Performance in 2012 from University College Cork. Throughout his career, he has remained dedicated to ongoing professional development, staying at the forefront of evolving business practices and global trends.As an influential figure in international business, Stephen Twomey continues to champion Irish companies' interests, driving economic growth, and forging strong partnerships across the MENA region. His visionary leadership, extensive industry knowledge, and unwavering commitment to excellence make him a vital asset to Enterprise Ireland and the broader business community.