Speakers Noora Al Suwaidi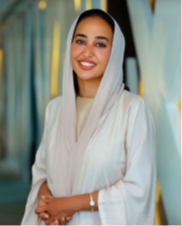 Noora Al Suwaidi is the Regional Director – Europe & Americas at Dubai International Chamber, where she manages a network of representative offices in Europe & Americas that implement the chamber's strategy across target markets within the region.
In her current role, Noora works to attract foreign companies and investors to Dubai by promoting the emirate as a preferred global business hub at international events and trade missions. She also focuses the efforts of regional offices to identify business opportunities for Chamber members and support Dubai-based companies with their entry into global markets. Experienced in connecting & building business development & strategy in MENA, Europe & Americas. In addition, knowledgeable in the promotion of soft power and developing character strengths capacity building program for diplomatic mediation that uses positive psychology to develop techniques that will assist in bilateral mediation and negotiations. Immensely enjoys traveling & creating innovative opportunities/projects that connects the world in history, art & craftsmanship.